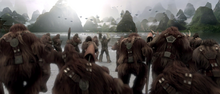 Guilin (Chinese: 桂林) is one of China's most picturesque cities, with a population of 670,000. Its name means "forest of Sweet Osmanthus", owing to the large number of fragrant Sweet Osmanthus trees located in the city. Its scenery is reputed by many Chinese to be the "finest under heaven". Although no actual filming took place in Guilin, it was, along with Phuket in Thailand, one of the locations scouted for Star Wars: Episode III Revenge of the Sith, to capture plate photography for backdrops on the planet Kashyyyk.
External links
Edit
Ad blocker interference detected!
Wikia is a free-to-use site that makes money from advertising. We have a modified experience for viewers using ad blockers

Wikia is not accessible if you've made further modifications. Remove the custom ad blocker rule(s) and the page will load as expected.