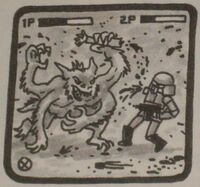 Gundark Trainer was a video game involving the training of gundarks. Roan Novachez played this game with Cronah and Cyrus, bullies that he had briefly taken to hanging out with during his second year at the Jedi academy on Coruscant. Roan felt the game was much more fun than the games he usually played with his friend Pasha, that he was now on the outs with, but Pasha felt the game was too violent.
Behind the scenes
Edit
Gundark Trainer appeared in Jedi Academy: Return of the Padawan. While a cover of the game was initially designed as artwork for the title, an image from the fictional game was used in the actual book and the game was not referred to by title.
Appearances
Edit
Ad blocker interference detected!
Wikia is a free-to-use site that makes money from advertising. We have a modified experience for viewers using ad blockers

Wikia is not accessible if you've made further modifications. Remove the custom ad blocker rule(s) and the page will load as expected.