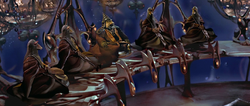 The Gungan High Council was the governing body of the Gungan society, under the leadership of a Boss. In the years prior to and following the Battle of Naboo, Rugor Nass was head of the High Council.
The primary membership of the High Council comprised Reps, who worked with the Boss to determine policies and maintain order. For this reason, the High Council was sometimes known as the Rep Council. The Council met in the High Tower Boardroom in Otoh Gunga, though for a time after the Invasion of Naboo, it was forced to meet in the Gungan Sacred Place. The Council assembled as and when the current Boss wished to discuss important matters, and Reps were personally chosen by the Boss.
High Council Members (32 BBY)Edit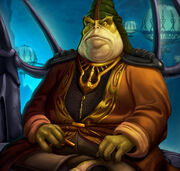 Past members
Edit
Appearances
Edit
Non-canon appearances
Edit
Ad blocker interference detected!
Wikia is a free-to-use site that makes money from advertising. We have a modified experience for viewers using ad blockers

Wikia is not accessible if you've made further modifications. Remove the custom ad blocker rule(s) and the page will load as expected.