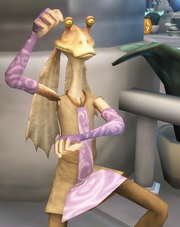 Gungan Style was a type Gungan dance that Jar Jar Binks, Junior Representative of the Chommell sector, was known for performing at the time of the Clone Wars. The dance consisted in a few basic moves, making it look like the perfomer was riding an invisible mount, alternately holding the reins and spinning a lasso, before moving into a legs-shuffling side gallop.[1]
Behind the scenes
Edit
This dance was seen in a September 14th, 2012 update to Star Wars: Clone Wars Adventures, and is a parody on the dance featured on the videoclip of "Gangnam Style" a song by South Korean performer PSY.
Appearances
Edit
Notes and references
Edit
Ad blocker interference detected!
Wikia is a free-to-use site that makes money from advertising. We have a modified experience for viewers using ad blockers

Wikia is not accessible if you've made further modifications. Remove the custom ad blocker rule(s) and the page will load as expected.