Gungan weaponry
Talk

0
107,499pages on
this wiki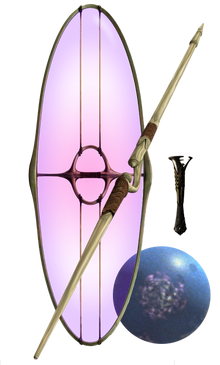 The Gungan Grand Army used a varied style of weaponry in times of war or strife. While the Gungans rarely were involved in battles of any magnitude, the weapons proved useful when the Trade Federation invaded Naboo in 32 BBY. Other than this and a few other battles, the Gungans primarily used their armaments for minor security skirmishes and ceremonial decorations.
One of the most common weapons was the booma, a small blue spherical orb created from plasma found in Naboo's crust. The booma was either thrown by hand, slung or catapulted; the catapults were made of hornwood, and were often towed by falumpasets or fambaas. Upon contact with the target, the booma would explode, releasing plasmic energy and a powerful electric shock. During battle, boomas would be kept in Gungan battle wagons, towed by falumpasets.
The standard Gungan melee weapon was the electropole (not to be confused with an electrostaff), which could be used to strike the enemy at close range or be thrown like a javelin, both methods resulting in an electric shock to the recipient.
Defensively, Gungans used a particular type of energy shield that was made from the same hydrostatic material used to protect their underwater cities, such as Otoh Gunga, resulting in a shield capable of deflecting blaster bolts.
When going into battle, Gungans also relied on several indigenous creatures from Naboo as mounts. During the Battle of Naboo, the massive fambaa was used to carry a deflector shield that surrounded the Gungan Grand Army. The aforementioned falumpasets carried and towed many of the Gungans' larger equipment, such as energy catapults and battle wagons. The standard Gungan mount was the kaadu, a two-legged flightless bird often decorated with goff feathers.
Appearances
Edit