Gunship Over Florrum is a single-player online flash player game found on StarWars.com. It was posted on StarWars.com as a supplement to The Clone Wars webcomic Hunting the Hunters (Part I).
Description
Edit
Jedi Knight Aayla Secura has sent a recon team to Florrum an a Republic gunship, but the team has been harried by Separatist droid forces. Command the gunship over the sulfuric acid geysers below and destroy the Separatist droids seeking to capture you.
Appearances
Edit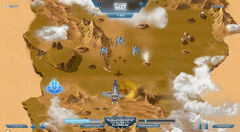 Characters
Droid models
Events
Locations
Organizations and titles
Vehicles and vessels
Weapons and technology
Miscellanea
Behind the scenes
Edit
If the player shoots Shahan Alama's Weequay saucer craft, an extra page of the web comic can be viewed.
External links
Edit
Ad blocker interference detected!
Wikia is a free-to-use site that makes money from advertising. We have a modified experience for viewers using ad blockers

Wikia is not accessible if you've made further modifications. Remove the custom ad blocker rule(s) and the page will load as expected.