"Excellent! I forget the delivery agent's name, but he's a Drall, one of those little furry folks. I expect he must be a young fan eager to get into the world of swoop racing. Bring him here and give him a thrill."
―Ignar Ominaz
Hamber was a male Drall guard and delivery agent who lived during the Galactic Civil War.
Biography
Edit
"Are you from the customer who ordered this power converter?"
"What kind of idiot tries to fine-tune a swoop bike in the Agrilat Swamp? The crystal growth will ruin this power converter. Bring me to this nincompoop, and I'll tell him where he's gone wrong."
―Hamber
Sometime after 0 BBY, a spacer escorted Hamber to Ignar Ominaz.
Behind the scenes
Edit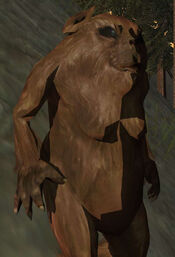 Though not mentioned in the quest dialogue, examining Hamber revealed him to also be a Drall guard.
Appearances
Edit
Ad blocker interference detected!
Wikia is a free-to-use site that makes money from advertising. We have a modified experience for viewers using ad blockers

Wikia is not accessible if you've made further modifications. Remove the custom ad blocker rule(s) and the page will load as expected.