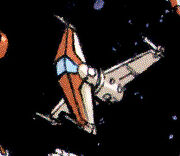 The Hammerhead starship was a class of ship used by the Galactic Republic during the Mandalorian Wars. In 3963 BBY, at least two of them were present in the Republic fleet that gathered over Ralltiir, and one of them was seen at Camp Three on the planet Serroco, shortly before the Battle of Serroco.
Behind the scenes
Edit
The size and function of the Hammerhead starship is not made clear in its appearances. While the ship is evidently smaller than the similarly-designed Hammerhead-class cruiser, speculation places this ship anywhere from Corvette-sized to Starfighter-sized.
Appearances
Edit
Ad blocker interference detected!
Wikia is a free-to-use site that makes money from advertising. We have a modified experience for viewers using ad blockers

Wikia is not accessible if you've made further modifications. Remove the custom ad blocker rule(s) and the page will load as expected.