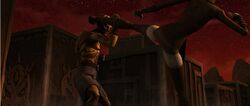 "It is unfortunate you and I cannot resolve our differences as you do in the Zygerrian tradition."
"With no weapons, you would fight me?"
―Obi-Wan Kenobi and Darts D'Nar
Hand-to-hand combat was a variety of combat in which no distance weapons were used, as opposed to firefights.[1] The phrase "hand-to-hand" could refer to both unarmed combat[2] and combat using melee weapons.[1] The Zygerrians had a tradition of resolving their differences by unarmed combat.[3] Known fighting moves included the Strike of the Nexu and the Kick of the Bantha.[4] Bounty hunter Latts Razzi was an expert in several forms of exotic martial arts. Battle droid C-21 Highsinger studied Latts Razzi's martial arts moves in order to imitate her deadly fighting style.[5]
Appearances
Edit
Notes and references
Edit
↑  C-21 Highsinger in the Encyclopedia (link now obsolete; backup link)
Ad blocker interference detected!
Wikia is a free-to-use site that makes money from advertising. We have a modified experience for viewers using ad blockers

Wikia is not accessible if you've made further modifications. Remove the custom ad blocker rule(s) and the page will load as expected.