"I don't get to treat many lightsaber wounds. It's such an old weapon. People today prefer to fight with rifles and blasters, from long range. I suppose it doesn't matter. Death is death, no matter the mechanism that is employed to beget it. But not for your friend. Not this time."
―Kalonia, to Rey
Major Harter Kalonia was a human female who served as a doctor with the New Republic and later the Resistance. She was stationed on the Resistance base on D'Qar thirty years after the Battle of Endor. She notably attended both Chewbacca and Finn after they were wounded at the Battle on Takodana.
Biography
Edit
New Republic service
Edit
In 28 ABY,[5] Doctor Harter Kalonia served as a medical officer in the New Republic on Hosnian Prime. She had a friendly relationship with Greer Sonnel, Senator Leia Organa's personal assistant, whose bloodburn she treated with occasional injections of Hadeira serum. Following the Napkin Bombing which damaged the New Republic senatorial complex's conference building, Dr. Kalonia treated Leia and Greer's moderate injuries at a nearby medcenter. She told her patients to stop talking so that she could attend to her work. Later, Dr. Kalonia and a med droid loaded a treated Leia onto a transport.[3]
Later, Dr. Kalonia treated Greer for a bloodburn attack after she collapsed prior to her mission to Sibensko to investigate Rinnrivin Di's cartel and the Amaxine warriors. After the mission to Sibensko, Greer and other New Republic officials and former Rebel Alliance personnel attended a private meeting in the Senate hangar bay where Leia established the Resistance, a paramilitary organization aimed at protecting the Republic from external threats.[3]
First Order–Resistance conflict
Edit
Thirty years after the Battle of Endor, Doctor Kalonia served as a major in the Resistance, under the command of General Leia Organa, during their conflict with the First Order.[4] She was stationed at the Resistance base on the planet D'Qar. There, she treated the wounded shoulder of the Wookiee Chewbacca. Chewbacca appreciated her kindly demeanor, and Kalonia soothed him as she provided treatment, telling the Wookiee that his story of how he sustained the wounds sounded "very scary" and that Chewbacca "so brave."[1][6]
Kalonia also treated the injuries Finn suffered during his fight with Kylo Ren on Starkiller Base, which included nearly fatal lightsaber wounds to the shoulder and spine. Kalonia tended to Finn in the intensive care unit of the D'Qar base, marking one of the few instances in her career that she treated lightsaber wounds. Finn survived, and Kalonia's prognosis was positive, though his final status would not be certain until he fully recovered. After treating Finn, Kalonia personally informed Rey about his recovery.[6]
Personality and traits
Edit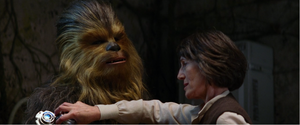 "That sounds very scary. You must be so brave."
―Kalonia demonstrating her bedside manner on Chewbacca
Kalonia was a light-skinned woman[1] with dark hair and brown eyes.[6] As a physician, she was noted for her good humor and sympathetic bedside manner,[4] and she was warm enough to offer even the most hardened soldier comfort.[7]
Skills and abilities
Edit
Kalonia was a competent physician. Despite having little experience with the treatment of lightsaber wounds, she still managed to save Finn's life. In addition to speaking Galactic Basic,[6] Kalonia was also fluent in other languages such as Shyriiwook, which made her a good ear for Wookiee patients.[4]
Equipment
Edit
The uniform worn by Kalonia reflected both her military and medical roles. The silver and red rank badge of an army major was attached to the left side of her chest, and the dark armband of medical services (bearing the word "MED" in Aurebesh) was wrapped around her left upper arm. Kalonia used a well-equipped medical field kit that allowed her to treat blaster burns. It contained antiseptic field generators, bacta bulbs, and synthflesh dispensers.[4] While Kalonia was known for her compassion and sly humor, she also ensured that her patients complied with her instructions.[3]
Behind the scenes
Edit
Kalonia was portrayed by Harriet Walter in the film Star Wars: Episode VII The Force Awakens (2015). Walter, who also portrayed Lady Shackleton in the television series Downton Abbey, is the niece of Christopher Lee, who portrayed Darth Tyranus in Star Wars: Episode II Attack of the Clones (2002) and Star Wars: Episode III Revenge of the Sith (2005).[8][9] A deleted scene from The Force Awakens depicts Kalonia telling Rey "your friend's going to be just fine," referring to Finn,[10] a sequence that was presented in detail in the film's novelization.
Appearances
Edit
Non-canon appearances
Edit
Notes and references
Edit
↑ @DelReyStarWars (Del Rey) on Twitter. "So excited to have @claudiagray writing a #StarWars novel with us. SW: New Republic: Bloodline coming 2016. Set 6 years before TFA." (screenshot) The tweet in question states that the events of Bloodline take place six years before the events of the film Star Wars: Episode VII The Force Awakens. Star Wars: Galactic Atlas establishes that the events of The Force Awakens take place in the year 34 ABY and so using simple math it can be concluded that the events of Bloodline take place in 28 ABY.
↑  Star Wars The Force Awakens Series 1 (Card: Doctor Kalonia)
↑ McNally, Victoria. (December 18, 2015). "13 'Star Wars: The Force Awakens' Cameos You Might Have Missed". MTV.
↑ Yamato, Jen. (December 19, 2015). "How to Spot All the 'Star Wars: The Force Awakens' Cameos, From Daniel Craig to Yoda". The Daily Beast.
↑ Star Wars: Episode VII The Force Awakens home video release
Ad blocker interference detected!
Wikia is a free-to-use site that makes money from advertising. We have a modified experience for viewers using ad blockers

Wikia is not accessible if you've made further modifications. Remove the custom ad blocker rule(s) and the page will load as expected.