127,012pages on
this wiki
Talk

4
Template:OOU company infobox Hasbro is a toy company that bought Kenner in the 1990s. It currently makes all Star Wars action figures. Hasbro also manufactures a number of other Star Wars brands, including Galactic Heroes, Star Wars Transformers, and the Titanium Series. The company is also responsible for holding the Star Wars Mini Movie Awards to award the best fanon movies related to Star Wars Universe.
3¾ inch Action Figures
Hasbro's most popular brand is their 3¾ inch action figures. Not all figures are this specific height—smaller characters such as Jedi Master Yoda, Astromech Droids and many taller characters like Darth Vader are of a height that keeps them in scale with the majority of figures that are around 3¾ inches in height. As with the original vintage figures, Hasbro has had major success with these 3¾ inch range and has, over thirteen years, released seven different production ranges plus many special editions and vehicle pack-in figures.
Collections:
12 inch Action Figures
Star Wars action figures on the 12-inch scale were released from 1995 to 2005. A variety of figures were released over the course of this line, including larger beast characters and smaller 6-inch characters. Multipacks were released as retail exclusives. Like the 3¾" scale playsets, the 12" figures were created by a different division within Hasbro from the regular 3¾" line, leading to some disparity between the quality and execution of each line. Whereas the 3¾" line kept pace or often set the trends for similar products of that scale, the 12" figures lagged behind the sculpting, articulation, painting, and fabric advancements made by competing lines of the same scale, even within Hasbro itself.
Collector interest waned and ultimately Hasbro gave up the license for Star Wars 12" figures, allowing the line to shift away from sales to children at mass retail and cater directly to the collector market. The license was procured by Sideshow Collectibles, whose direct marketing, limited production runs, premium packaging, quality execution and higher price points are in stark contrast to the approach of their predecessor.
Other toy lines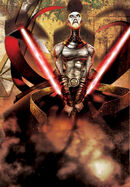 Star Wars Unleashed (2002– ): A set of 7-inch plastic statues of Star Wars characters in action-oriented poses first released by Hasbro in 2002. In 2006, Star Wars Unleashed Battle Packs, containing 2-inch versions of the 7-inch statues, were released. Each pack contained four figures in different poses from six of the seven Star Wars movies. The battle packs have mostly replaced the 7-inch line.
Galactic Heroes (2004– ): A collection of 2-inch figures created for young children and collectors. The characters are new expressions of Star Wars characters, from all seven Star Wars films.
Titanium Series (2005– ): A collection of die-cast Star Wars vehicles. Most are small, but several vehicles were released in a larger scale. Also included in this collection is a set of 3.75-inch die-cast action figures with limited articulation.
Jedi Force (2004-2005): A set of action figures designed for young children. Unlike Galactic Heroes, Jedi Force figures were very large.
Force Battlers (2005–2006): A set of large action figures, based on characters from the Star Wars films. The main point of these figures were their action-features.
Star Wars Mpire (2005): A set of figurines released only in 2005. They were M&M candies dressed as Star Wars characters.
Star Wars Mighty Muggs (2008– ): "Urban Vinyl Dolls" featuring Star Wars characters in a stylized format. Each figure utilizes the same simple mold, with character details painted on. Most figures are packed with an accessory and stand six inches tall.
Sources
External links