CT-9529
Talk

4
103,568pages on
this wiki
CT-9529
"Havoc"
Biographical information
Homeworld
Physical description
Species
Gender
Height

1.83 meters

Hair color

Black

Eye color

Brown

Chronological and political information
Era(s)
Affiliation
"What's happening, why would they do this?"
"We don't know, we heard shots."
―Ahsoka Tano to Havoc
CT-9529, nicknamed "Havoc," was a clone trooper who served in Tango Company during the Clone Wars.
Biography
Edit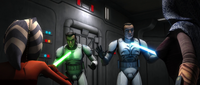 He along with the rest of Tango Company served on Geonosis, and afterward was sent on a medical supply run to Ord Cestus. While aboard a Republic supply ship that was being transported back to Republic space by Jedi Commanders Ahsoka Tano and Barriss Offee. Havoc also came in to investigate with the leader of Tango Company, Trap, when he heard blaster shots in the mess hall he found out that two clones, Ox, and Edge had attacked the Jedi. He was eventually infected with one of the Geonosian brain worms that had stowed aboard the ship and was subsequently mind-controlled. Later he along with the Scythe and Edge, pinned down the final uninfected clone trooper on the ship and infected him with a Brain worm. He was then forced to attack the Jedi watching him. But Havoc along with the rest of the crew were finally sterilized when Ahsoka ruptured the ships cooling tanks.
Equipment
Edit
Havoc carried a DC-15A blaster rifle, and a DC-15S blaster. He wore Phase I Armor that had blue markings and bore a striped sigil on his armored shoulder plates that resembled a stylized tiger face.
Appearances
Edit