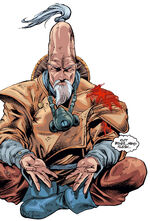 "Must relax…reach out with my mind…reach inside…through the pain…to touch the Force! Knit bones…mend flesh…renew!"
―Ki-Adi-Mundi
Healing through the use of meditation was a Jedi technique where one meditated while repairing injuries to their body. Ki-Adi-Mundi used this technique to accelerate healing to his broken arm, sustained after a Bantha-II cargo skiff crash on the Dune Sea of Tatooine.
Appearances
Edit
Ad blocker interference detected!
Wikia is a free-to-use site that makes money from advertising. We have a modified experience for viewers using ad blockers

Wikia is not accessible if you've made further modifications. Remove the custom ad blocker rule(s) and the page will load as expected.