Heart of Fire (comic)
Talk

0
115,239pages on
this wiki
Heart of Fire
Attribution information
Writer
Penciller
Inker
Publication information
Publisher
Publication date
Published in
Pages

3

General information
Era
Timeline
Heart of Fire is a 3-page comic written by John Ostrander, pencilled by Jan Duursema and inked by Dan Jackson. It appeared in three parts in Dark Horse Extra #35-#37.
Plot summary
Edit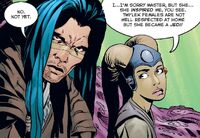 After the events of Star Wars: Republic: The Hunt for Aurra Sing, Jedi Master Quinlan Vos recovers in the Jedi Temple on Coruscant. While in the Meditation Garden Master Vos is interrupted by a young female Twi'lek Padawan. Quinlan recognizes the girl as Xiaan Amersu, one whose Master died at the hands of Aurra Sing. Xiaan asks about Aayla Secura and offers Quinlan a shiny stone called the 'Heart of Fire'. This stone was once his, but he gave it to Aayla, and she passed it to Xiaan. Now Xiaan gives it back to Quinlan. She insists that Quinlan reads the images of the stone, and he does…
Appearances
Edit
Characters
Droid models
Events
Locations
Organizations and titles
Sentient species
Vehicles and vessels
Weapons and technology
Miscellanea
Behind the scenes
Edit
Heart of Fire identifies the Skyboat pirate event taking place on "Xoman Three" whereas the The Stark Hyperspace War arc states Xoman Free though this could simply be Xiaan misreading the record of the event.
Collections
Edit