The Heavy Proton Torpedo Launcher is an upgraded version of the Mobile Proton Torpedo Launcher. The heavy artillery vehicle mounts two proton torpedo launchers and is used in an anti-air role.
A New Republic strike team led by Luke Skywalker and Leia Organa Solo used one of the vehicles during the latter portions of the Battle of Hanoon in 6 ABY.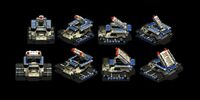 Behind the scenes
Edit
The Heavy Proton Torpedo Launcher appears in the 2001 video game Star Wars: Galactic Battlegrounds.
Appearances
Edit
Ad blocker interference detected!
Wikia is a free-to-use site that makes money from advertising. We have a modified experience for viewers using ad blockers

Wikia is not accessible if you've made further modifications. Remove the custom ad blocker rule(s) and the page will load as expected.