The heavy artillery platform was a far more powerful version of the Imperial mobile artillery.
Description
Edit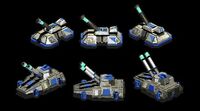 With its larger cannon, it could fire more volleys and was tougher to destroy, but it also had to deploy and un-deploy, thus making it more difficult to use effectively in a heated situation.
An alternate version of the heavy artillery featured a heavily-armored, slow-moving repulsor frame with two large mounted cannons.
Appearances
Edit
Ad blocker interference detected!
Wikia is a free-to-use site that makes money from advertising. We have a modified experience for viewers using ad blockers

Wikia is not accessible if you've made further modifications. Remove the custom ad blocker rule(s) and the page will load as expected.