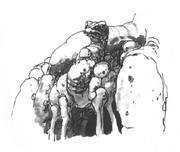 This poem referred to a Heep-heep—a creature from Zrak that possessed four legs and a reptilian head—that became stuck in a crack, and the more it tried to escape, the more it got stuck.[1]
There once was a Heep-heep from Zrak
Who found himself in a crack
The harder he tried
To remove his backside
The deeper he sank and that's that!
Behind the scenes
Edit
The Heep-heep was introduced in a poem in Monsters and Aliens from George Lucas, a book published in 1993.[1] Lucasfilm employee Leland Chee, who maintains the Holocron continuity database, has indicated that information contained in the book is non-canonical.[2]
Notes and references
Edit
Ad blocker interference detected!
Wikia is a free-to-use site that makes money from advertising. We have a modified experience for viewers using ad blockers

Wikia is not accessible if you've made further modifications. Remove the custom ad blocker rule(s) and the page will load as expected.