Ad blocker interference detected!
Wikia is a free-to-use site that makes money from advertising. We have a modified experience for viewers using ad blockers

Wikia is not accessible if you've made further modifications. Remove the custom ad blocker rule(s) and the page will load as expected.
Hem Dazon was a salt-addicted male Arcona. As a result, his eyes became yellow, he was ill-tempered, and his addiction caused him to develop tremors in his hands.[1] He was stuck on Tatooine due to wasting all of his credits on salt and juri juice. He was present at Chalmun's Spaceport Cantina when Luke Skywalker first met Han Solo, and he was sitting with Bom Vimdin, Pons Limbic, Arleil Schous, and a member of the Stennes species, Braconner Bakiska.
Behind the scenes
Edit
Hem Dazon was played by uncredited makeup artist Rick Baker in Star Wars: Episode IV A New Hope.[2] The Arcona present in The Star Wars Holiday Special was not immediately identified as Dazon until the Star Wars Blog article, The Star Wars Holiday Special Cantina: Who's Who, which stated that Dazon was also present in the special. In 1994, a screen saver from Star Wars Screen Entertainment identified this character as "Kal Nkai."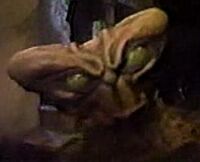 The character received the most votes in a poll given in Star Wars Insider 48 asking fans who, among about two dozen obscure Cantina and Jabba's Palace characters, they would like to see made into an action figure. (According to Star Wars Insider 50, Hem Dazon beat out Tessek 224 votes to 205.) Both these characters were later made into action figures by Hasbro, Tessek in Power of the Jedi, and Hem in The Saga Collection.
Appearances
Edit
Notes and references
Edit
External links
Edit