"Shields? Shields? But is it right to raise the shields?"
―Snivvian Artist
Heroes & Rogues is a supplement to Star Wars: The Roleplaying Game published by West End Games. It was written by Paul Sudlow and Rick D. Stuart, and was first published in June 1995.
The book provided information on creating character backgrounds, guidelines for role playing Imperial characters, sixty character templates, and forty-three gamemaster characters.
Introduction
Chapter One: Character Development
Chapter Two: Roleplaying Imperials
Templates

Arrogant Imperial Noble
CompForce Assault Trooper
Ground Assault Vehicle Commander
Imperial Adjutant
Imperial Assassin-in-Training
Imperial Diplomat
Imperial Double Agent
Imperial Intelligence Agent
Imperial Morale Officer
Imperial Smuggler
ISB Investigations Specialist
ISB Protocol Officer
Space Rescue Corps Officer
Unemployed Imperial Bureaucrat
Wealthy Physician
Chapter Three: Independent Templates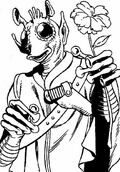 Chapter Four: Rebel Alliance and New Republic Templates
Chapter Five: Heroes and Rogues

Imperial Characters
Independent Characters
Alliance and New Republic Characters
Appearances
Edit
Characters
Creatures
Droid models
Events
Locations
Organizations and titles
Sentient species
Vehicles and vessels
Weapons and technology
Miscellanea
Ad blocker interference detected!
Wikia is a free-to-use site that makes money from advertising. We have a modified experience for viewers using ad blockers

Wikia is not accessible if you've made further modifications. Remove the custom ad blocker rule(s) and the page will load as expected.