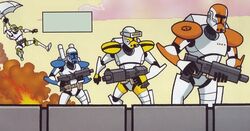 High Orbit Precision Entry (H.O.P.E.) troopers were specialized clone commandos used in the Clone Wars. Wearing Katarn commando armor, they would be launched from orbit in one-man escape pods, the outer shells of which would split open when an appropriate altitude was reached allowing the troopers inside to make a controlled descent to their target.
The only known unit, H.O.P.E. Squad, was sent to rescue Jedi Treetower on Yorn Skot.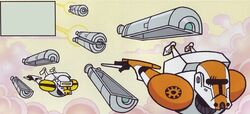 Appearances
Edit
Ad blocker interference detected!
Wikia is a free-to-use site that makes money from advertising. We have a modified experience for viewers using ad blockers

Wikia is not accessible if you've made further modifications. Remove the custom ad blocker rule(s) and the page will load as expected.