Holocron of Heresies
Talk

3
103,552pages on
this wiki
Holocron of Heresies
Production information
Type
Culture
Creators
Created
Destroyed
Discovered

980 BBY[3]

Owners
Gatekeepers

Darth Andeddu[5]

Known locations
Physical and technical specifications
Shape

Four-sided pyramid[3]

Size
Color(s)

Dark[3]

Material(s)
Inscriptions

In umbris potestas est[7]

Other markings
Usage and history
Contents
Heritage

Ancient Sith

Era(s)
Affiliation
"If the legends are to be believed, Andeddu's Holocron contains the secret of eternal life."
―Set Harth
The Holocron of Heresies, also simply known as Darth Andeddu's holocron, was a Sith holocron made by Darth Andeddu. It held Andeddu's spirit and lightsaber crystal, as well as the secret of transferring one's spirit to another body. The holocron had the phrase "In umbris potestas est" written on it in Aurebesh.
"Magnificent, isn't it? Through this holocron, I have access to the long dead wisdom of Darth Andeddu. The wisdom and power of the Sith."
―Count Dooku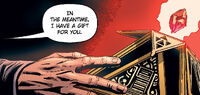 Lost in the annals of Sith history for many years, Darth Andeddu's Sith holocron was said to have first been discovered by the fallen Jedi Freedon Nadd.[4] Darth Bane in 980 BBY stole it from Andeddu's Keep on Prakith during his quest to obtain eternal life, battling many of Andeddu's followers in the process. Bane ripped the secret of essence transfer from the holocron, but it was stolen soon after by Set Harth.[3] Centuries later, the holocron had found its way back to Korriban. Quinlan Vos and Tol Skorr recovered the holocron sixteen months after the Battle of Geonosis as they attempted to gain favor with Darth Tyranus.[1]
After extracting the knowledge stored in the holocron, Tyranus disassembled the artifact and removed a deep red lightsaber crystal that had been used in Darth Andeddu's lightsaber. He gifted the ancient crystal to Vos and then ordered him to Coruscant to assassinate Senator Viento.[1]
By 137 ABY, the holocron had fallen into the hands of Darth Krayt, Dark Lord of the Sith and founder of the One Sith. Lord Krayt activated the holocron in order to learn how Andeddu had been able to cheat death, but the gatekeeper refused to counsel the "pretender".[5]
Darth Wyyrlok took the holocron to Andeddu's true tomb, located within a keep on the planet Prakith searching for a way to cure Darth Krayt. There, it was revealed that Andeddu's holocron was unlike regular holocrons. Not only did the holocron contain Andeddu's full intellect (possibly his spirit), but was also able to manipulate the Force.[2]
After being placed near Andeddu's decayed remains, the holocron was able to siphon off the life force energy of Gerlun, a member of a Sith cult calling itself The Malevolence. The holocron used Gerlun's lifeforce to reanimate Andeddu's body. Wyyrlok's own illusions made Andeddu lose control of his reanimated body. The Force-empowered intellect was either destroyed or retreated back into the holocron.[2]
Behind the scenes
Edit
The Sith holocron with the phrase "In umbris potestas est", meaning "In darkness, there is power" in Latin, was first depicted in Attack of the Clones: The Visual Dictionary. Later, in the Jedi vs. Sith: The Essential Guide to the Force, the detailed depiction of the same holocron established it as the holocron of Darth Andeddu from Star Wars: Republic 63: Striking from the Shadows.
Appearances
Edit
Notes and references
Edit
External links
Edit