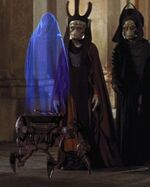 A holotransceiver or holotransmitter was a device to intercept and play holographic messages, and retain contact between two or more beings over long distances. Such a device was integrated into Nute Gunray's mechno-chair.
In 3951 BBY, trapped miners at the Peragus Mining Facility, modified a holo-transmitter into a crude relay that beamed short-burst transmissions, in the form of a Military flash code, outside of the mining facility. However, the signal strength was weak and the miners reasoned that even if the signal carried beyond the asteroid field surrounding the facility, any potential rescuers would have needed to have been scouring the frequencies to detect the signal.
Appearances
Edit
Ad blocker interference detected!
Wikia is a free-to-use site that makes money from advertising. We have a modified experience for viewers using ad blockers

Wikia is not accessible if you've made further modifications. Remove the custom ad blocker rule(s) and the page will load as expected.