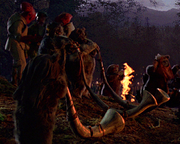 Horn was a generic term for different types of wind instruments. Archaic horns owed their name to the hard outgrowths found in pairs on the heads of certain creatures, in which they were carved. In some cultures, such as the Mon Calamari of Dac, horns were made out of large seashells. Other types of horns were made of wood or sheets of metal. Known variants of horns comprized the Xloff, Plandl, Faln, Woot, and Flagn horns.
Appearances
Edit
Ad blocker interference detected!
Wikia is a free-to-use site that makes money from advertising. We have a modified experience for viewers using ad blockers

Wikia is not accessible if you've made further modifications. Remove the custom ad blocker rule(s) and the page will load as expected.