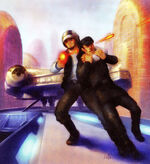 A hostage was someone held against their will as leverage towards the fulfillment of a demand or goal.
Hostage can also refer to:
Publications (in-universe):
Publications (real-world):
---
This is a disambiguation page—a navigational aid that lists other pages that might otherwise share the same title. If an article link referred you here, you might want to go back and fix it to point directly to the intended page.
---