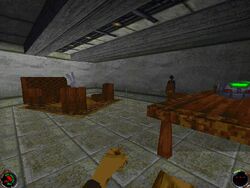 The House of Max was a building in Barons Hed, Sulon. In 5 ABY, Max was staying there, sharing it with a female Human, at the time of Kyle Katarn's mission to Sulon.
Behind the scenes
Edit
The home is considered an easter egg in level 5 of Star Wars: Jedi Knight: Dark Forces II.
Appearances
Edit
Ad blocker interference detected!
Wikia is a free-to-use site that makes money from advertising. We have a modified experience for viewers using ad blockers

Wikia is not accessible if you've made further modifications. Remove the custom ad blocker rule(s) and the page will load as expected.