Human
125,387pages on
this wiki
Talk

8
Humans were a species of bipedal beings with bilateral symmetry native to the planet Coruscant. They were commonly encountered throughout the galaxy, from the bountiful planet of Naboo to the desert world of Tatooine. They were known to engage in many different pursuits, from politics to bounty hunting. Some species that bore structural resemblance to humans were referred to as "humanoids."
Biology and appearance
Edit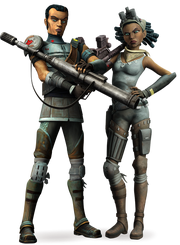 Humans were an intelligent species that originated on Coruscant,[18] but could be found on many other planets across the galaxy, including Naboo,[1] Tatooine,[17] and Alderaan.[7] They came in two sexes, male and female, and gave birth to live young.[7] They were bipedal beings with a bilateral symmetry, having a front and a back end, as well as an upside and downside. Their body comprised a torso with a head and four limbs attached to it. The upper limbs, or arms, ended in hands which had five fingers each; the lower ones, called legs, ended in feet. The human fingers had multiple points of articulation, and one of them was an opposable thumb that allowed for fine manipulation. Finally, they had one head perched atop a torso.[17] Many other species, including the Twi'leks[20] the Mon Calamari[21] or the Zygerrians, were referred to as "humanoids" because of their structural resemblance to humans.[22]
Compared with the Wookiees of Kashyyyk,[23] Humans had little hair on their bodies.[24] Most of it was concentrated on the scalp and groin, as well as the lower portions of the faces of most males, though these three regions were often shaved in various patterns, either for hygiene or self-expression (strips of concentrated hair, referred to as "brows," were also located above the eyes, and were used in non-verbal communication). [1] Human skintones ranged from dark brown,[25] through lighter shades,[26] to pale skin.[27]. The skin of most humans native to Lothal had a copper sheen.[28] Human eyes came in shades of blue,[11] green,[13] or brown.[12] Occasionally, humans with purple[15] or even red eyes could be encountered.[16] The average height of humans was a little below 1.85 meters.[6]
Because the throats of the two species were too different, humans were physically incapable of speaking the language of the Wookiees.[28] In comparison with most other species, the humans' sense of smell was quite underdeveloped.[29]
Like many other species, humans could be sensitive to the Force, a mysterious energy that connected all living things in the galaxy and gave special powers to those who learned how to manipulate it.[30]
Society and culture
Edit
Although humans could occupy a variety of employs, from politicians[1] to bounty hunters[31] or moisture farmer,[17] they were reputedly unable to work as podracers.[1] Anakin Skywalker was reportedly the only human who could race pods.[1]
Many humans changed the course of history, from politicians[1] to a mere slave boy turned Jedi Knight.[7] Sheev Palpatine, who founded the autocratic Galactic Empire that ruled over the galaxy for two decades, was a human from Naboo.[32] Many members of the Alliance to Restore the Republic's leading circle, including Mon Mothma,[10] Bail Organa,[33] and his adopted daughter Leia Organa were humans as well.[12] The Galactic Empire was known to favor humans at the expense of alien species.[34] The Empire's government and Imperial military was dominated by humans.[35]
Appearances
Edit
Non-canon appearances
Edit
Notes and references
Edit
↑ 6.0 6.1 In the novel Tarkin, the titular character Wilhuff Tarkin's was stated to be "just above human average" in height. According to the official Databank, Tarkin was 1.85 meters tall.
↑  Kitster in the Encyclopedia (link now obsolete; backup link on Archive.org)
↑ 9.0 9.1  Captain Argyus in the Encyclopedia (link now obsolete; backup link on Archive.org)
↑ 10.0 10.1  Mon Mothma in the Encyclopedia (link now obsolete; backup link on Archive.org)
↑ 11.0 11.1  Anakin Skywalker in the Encyclopedia (link now obsolete; backup link on Archive.org)
↑ 12.0 12.1 12.2  Leia Organa in the Encyclopedia (link now obsolete; backup link on Archive.org)
↑ 13.0 13.1  Rush Clovis in the Encyclopedia (link now obsolete; backup link on Archive.org)
↑ 15.0 15.1  Almec in the Encyclopedia (link now obsolete; backup link on Archive.org)
↑ 16.0 16.1  Tan Divo in the Encyclopedia (link now obsolete; backup link on Archive.org)
↑  Wicket W. Warrick in the Encyclopedia (link now obsolete; backup link on Archive.org)
↑  Twi'leks in the Encyclopedia (link now obsolete; backup link on Archive.org)
↑  Mon Calamari in the Encyclopedia (link now obsolete; backup link on Archive.org)
↑  Zygerrians in the Encyclopedia (link now obsolete; backup link on Archive.org)
↑  Wookiees in the Encyclopedia (link now obsolete; backup link on Archive.org)
↑ As exemplified by Mace Windu in Star Wars: Episode I The Phantom Menace.
↑ As exemplified by Sabine Wren in Star Wars Rebels.
↑ As exemplified by Mon Mothma in Star Wars: Episode III Revenge of the Sith
↑  Dengar in the Encyclopedia (link now obsolete; backup link on Archive.org)
↑  Palpatine in the Encyclopedia (link now obsolete; backup link on Archive.org)
↑  Bail Organa in the Encyclopedia (link now obsolete; backup link on Archive.org)