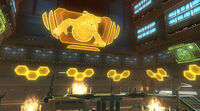 Huttball was "a dangerous sport that captured the hearts and minds of the people on the Smuggler's Moon of Nar Shaddaa" during the Old Republic era. The game pitted two randomly selected teams against one another in a no-holds-barred attempt to gain possession of the ball and bring it into the opposing team's camp. Violence and cheating were encouraged in Huttball. Sponsored by the famed Giradda the Hutt, Huttball pitted some of the most powerful heroes in the galaxy in a contest with fame and fortune at stake.[1]
On one occasion between 3643 BBY and 3641 BBY,[2] two teams known as the Frog-dogs and the Rotworms played a game of Huttball in The Pit.[1]
Appearances
Edit
Notes and references
Edit
External links
Edit
Ad blocker interference detected!
Wikia is a free-to-use site that makes money from advertising. We have a modified experience for viewers using ad blockers

Wikia is not accessible if you've made further modifications. Remove the custom ad blocker rule(s) and the page will load as expected.