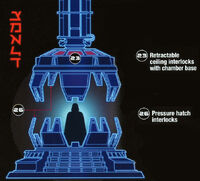 A hyperbaric medical chamber was a medical device used to facilitate the healing of badly burned tissue. It was a sealed capsule that was super-oxygenated. The Dark Lord of the Sith Darth Vader had a personal hyperbaric chamber within which he was able to breathe without artificial aids, though only for moments at a time. He had a second such chamber at Bast Castle on Vjun.
Appearances
Edit
Ad blocker interference detected!
Wikia is a free-to-use site that makes money from advertising. We have a modified experience for viewers using ad blockers

Wikia is not accessible if you've made further modifications. Remove the custom ad blocker rule(s) and the page will load as expected.