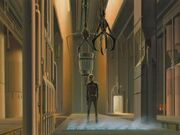 A hyperbaride synthesis plant was a plant where hyperbarides, a group of extremely rare super-heavy elements, were processed. Dynamic Synergetics, Inc. owned several of these plants until it was nationalized by the Galactic Empire. One such plant was located on the planet Marca.
Appearances
Edit
Ad blocker interference detected!
Wikia is a free-to-use site that makes money from advertising. We have a modified experience for viewers using ad blockers

Wikia is not accessible if you've made further modifications. Remove the custom ad blocker rule(s) and the page will load as expected.