"We started this competition in the hopes of finding amazing new talent that we had yet to meet. What came out of this competition ultimately, was a deeper connection to the creative community and an even deeper sense of the power of Star Wars to open up the imagination."
―ILM Art Department senior manager Jennifer Coronado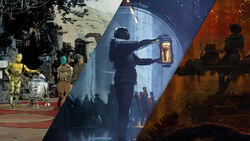 The ILM Art Department Challenge was a concept art challenge conceived by Industrial Light & Magic creative director David Nakabayashi[1] in collaboration with Wacom and ArtStation. Aiming to find designers who could make it as Star Wars concept artists, it was launched on May 10 2016.[2]
The competition was divided into three phases. In "The Moment," artists had to create two keyframes, or a traditional concept art image. In "The Ride," artists had to design two Star Wars vehicles. Finally, "The Job" was a simulation of working as a concept artist, where expectations were high and directions could be vague or change at the last moment. Every piece of art had to fit the aesthetic of the original Star Wars trilogy, while at the same, having a uniqueness and personality.[1] The judges were ILM employees Christian Alzmann, Doug Chiang, Amy Beth Christienson, Ryan Church, James Clyne, Bianca Draghici, Yannick Dusseault, Jason Horley, Alex Jaeger, Kevin Jenkins, Thang Le, Aaron McBride, David Nakabayashi, Kilian Plunkett, Stephen Tappin, and Eric Tiemens.[3]
In total, the challenge received over 3,800 entries. The winners, Mario Alberti, Morgan Yan, and Fred Palacio, were announced on September 8, 2016 on StarWars.com.[1] All three won a one-on-one Skype call with an ILM Art Director, and a tour of ILM.[4]
External links
Edit
Notes and references
Edit