Iain McCaig
Talk

0
121,972pages on
this wiki
Iain McCaig
Career
Occupation

Artist

Companies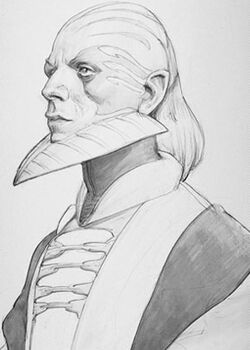 Iain McCaig is an artistic director, concept designer, and filmmaker who worked at JAK Films, a division of Lucasfilm, as a storyboard and concept artist for all three prequel movies. Several of the characters he designed include Darth Maul, Queen Amidala, and Sio Bibble.
McCaig will return as a concept artist for the upcoming film Star Wars: Episode VII The Force Awakens.[1] Artwork by McCaig will also be featured in the upcoming A New Hope: The Princess, the Scoundrel, and the Farm Boy[2], as well as the The Empire Strikes Back: So You Want to Be a Jedi? and Return of the Jedi: How a Princess, a Scoundrel, a Hairy Giant, Two Droids, Lots of Cute Furry Things, and a Jedi Knight Saved the Galaxy!.
Biography
Edit
Iain McCaig was born March 19, 1957 in Santa Monica, California. He moved to Glasgow, Scotland for his education, but soon returned to the United States.
His film directing debut, The Face, opened at the Santa Barbara Film Festival, and went on to win four awards including Best Family Film in the Houston International Film Festival.
He currently lives with his wife Leonor and their two children.
Star Wars contributions
Edit
Other works
Edit
John Carter of Mars, 2012?, Concept Artist
Charlotte's Web, 2006, Concept Artist
Harry Potter and the Goblet of Fire, 2005, Concept Artist
"Dinotopia", 2002, Storyboard Artist
Taking the Wheel, 2002, Storyboard Artist
The Book of Stars, 1999, Visual Effects Storyboard Artist
The Face, 1998, Director
Interview with the Vampire, 1994, Storyboard Artist
The Young Indiana Jones Chronicles, 1992-1996, Storyboard Artist
Bram Stoker's Dracula, 1992, Storyboard Artist
Star Control 2, 1992, Writer
Terminator 2: Judgment Day, 1991, Storyboard Artist
Star Trek VI: The Undiscovered Country, 1991, Storyboard Artist
Jethro Tull's Broadsword and the Beast, 1982, Illustrator
Appearances
Edit
Bibliography
Edit
Notes and references
Edit
Further reading
Edit