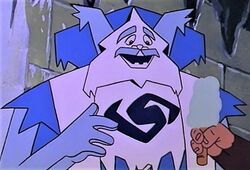 Ice-on-a-stick was a consumable confection which lived up to its name in every way. It played a particularly crucial role in the skirmish at the Snow Palace on the Forest Moon of Endor. When several young Ewoks infiltrated the palace to take the season scepter from the disillusioned Snow King, Wicket Warrick conceived the idea of disguising himself and his friend Latara as ice-on-a-stick peddlers.
The Snow King fell for Warrick's trick, dropping the season scepter when he reached for the frozen treat.
Appearances
Edit
External links
Edit
Ad blocker interference detected!
Wikia is a free-to-use site that makes money from advertising. We have a modified experience for viewers using ad blockers

Wikia is not accessible if you've made further modifications. Remove the custom ad blocker rule(s) and the page will load as expected.