"My friend's name is Idee Zipbits. He's a Chadra-Fan swoop jockey. Not terribly brave, but pretty good in a race. If you bring him back here, I'd show an appropriate amount of gratitude."
―Brea Tonnika
Idee Zipbits was a male Chadra-Fan swoop jockey who lived during the time of the Galactic Civil War.[1]
Behind the scenes
Edit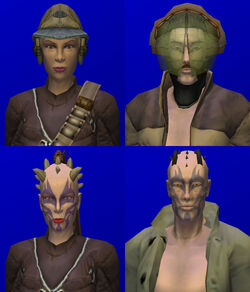 Dialogue pertaining to Idee Zipbits appeared in the directory tree files for the 2003 massively multiplayer online role-playing game Star Wars Galaxies: An Empire Divided. However, he never actually appeared on the video game's live servers as a proper non-player character.[1]
Appearances
Edit
Notes and references
Edit
Ad blocker interference detected!
Wikia is a free-to-use site that makes money from advertising. We have a modified experience for viewers using ad blockers

Wikia is not accessible if you've made further modifications. Remove the custom ad blocker rule(s) and the page will load as expected.