The ikopi was a fleet-footed ungulate with telescopic legs for fast locomotion. They lived in the plains and swamps of Naboo and its moon Rori and they traveled in herds.
Characteristics
Edit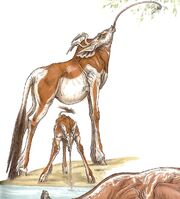 Ikopis had short necks, for defensive purposes. They compensated for that with a tube-like tongue, roughly two to three times longer than their head, to reach food far above their reach. The tongue was hollow, which allowed them to suck up water, or nectar, like a straw. When not being used, the ikopi's tongue would coil up inside a sack in the animal's cheek.
Appearances
Edit
External links
Edit
Ad blocker interference detected!
Wikia is a free-to-use site that makes money from advertising. We have a modified experience for viewers using ad blockers

Wikia is not accessible if you've made further modifications. Remove the custom ad blocker rule(s) and the page will load as expected.