Imperial Army trooper
Talk

29
103,519pages on
this wiki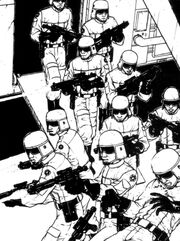 Imperial Army troopers were the standard infantry of the Imperial Army, and the most common soldiers of the Galactic Empire on most subject worlds. Following the Empire's post-Endor fragmentation, their numbers were maintained by periodic conscription from among subject populations.
The uniforms of these troopers were similar in cut to those of an Imperial Navy trooper. Battle-dress was for the most part the same, although green fatigues were known to be worn on occasion. Army troopers sometimes wore plasteel combat armor on their upper bodies, which was akin in design to that worn by snowtroopers. Standard armament included blaster rifles and grenades.
Whereas the elite Stormtrooper Corps—which was separate from the Imperial Army—was employed for boarding actions and strategically important attacks, Imperial Army troopers were used to keep the peace on subject worlds, or to take planets that were not strategically important to the Empire. They were also the branch of the military that was usually responsible for operating terrestrial vehicles, such as the AT-AT.
Thirty such troopers participated in an attack against a group of smugglers in the Whistler's Whirlpool Tapcafe on Trogan in 9 ABY.[1]
Equipment
Edit
Imperial Army troopers were equipped with an E-11 blaster rifle and three concussion grenades, though some were issued infantry support weapons such as Equalizer ion cannons[2] and PLX-2M portable missile launchers. Senior troopers were issued DH-17 blaster pistol. Army trooper helmets were equipped with several anti-flash-blinding lenses, a night vision viewplate, and an attached comlink. Some units were also issued camouflage jackets. During the early years of the Galactic Civil War, the army troopers wore grey armor and uniforms.[3] At some point in the history of the New Empire, the Stormtrooper Corps was disbanded and the stormtroopers were redistributed into the ranks of the Imperial Army. Yet individual stormtrooper units continued to operate separately from army troopers as elite shock forces, and thus they retained their armor as well.[4]
Behind the Scenes
Edit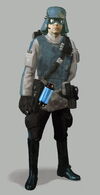 Some
Imperial Medics
, as well as
Imperial Officers
, wore field uniforms similar to that of regular Army Troopers.
The Imperial officers in Star Wars: Battlefront II armor resembles Imperial Army Troopers' armor.
In the 2003 video game Star Wars Galaxies: An Empire Divided, a massively multiplayer online-role playing game developed by Sony Online Entertainment and published by LucasArts, certain Imperial non-player characters were identified as Imperial troopers, and wore white jumpsuits, with a white belt, boots, and gloves. Given that these Imperial troopers acted as soldiers who patrolled Imperial bases on various worlds, it can be deduced that these were simply Imperial Army troopers wearing a different type of uniform.
Appearances
Edit
Notes and references
Edit