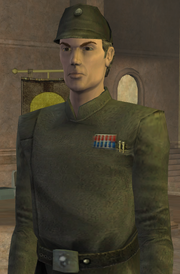 The Imperial Prefect was the highest-ranking Imperial official on a planet not currently under the Empire's direct control.
The Prefect was the Emperor's liaison with the planetary government. Though it is unknown where the Prefect's exact placement was in the overall Imperial organization, Prefect Eugene Talmont wore the insignia of an admiral.
During 5 ABY, Mosh Barris worked on Garqi as an Imperial Prefect.[1]
Most prefects were in charge of prefabricated garrison bases.
Appearances
Edit
Notes and references
Edit
Ad blocker interference detected!
Wikia is a free-to-use site that makes money from advertising. We have a modified experience for viewers using ad blockers

Wikia is not accessible if you've made further modifications. Remove the custom ad blocker rule(s) and the page will load as expected.