Imperial Senate Guard
Talk

5
109,640pages on
this wiki
Imperial Senate Guard
General information
Founder(s)
Leader(s)

Palpatine

Locations
Historical information
Formed from
Founding

Before 2 BBY

Other information
Era(s)
Affiliation
The Imperial Senate Guard were high class soldiers within the Galactic Empire. They were the Empire's version of the Senate Guard and were charged with protecting the Imperial Senate.
By 2 BBY, members wore armor identical to the Royal Guard and Shadow Guard, albeit blue in color. They wielded powerful cortosis staffs, similar in function to the Shadow Guards' lightsaber pikes. Though they still functioned as bodyguards (and possibly enforcers) of the Imperial Senators, they chiefly served the Emperor's will.They also were equipped with energy shields to protect them against Force users, but for the most part trained Jedi and dark side users were able to easily best them, as the members of the Guard possessed extremely minimal knowledge of the Force.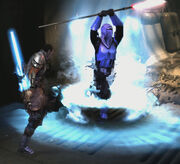 During the search for General Rahm Kota, Marek was discovered by Imperial agents on Cloud City. After fighting through a number of Stormtroopers, he came across at least 13 Imperial Senate Guards which he managed to dispatch.
Three Senate Guards were present on Kashyyyk in the area between the building where Ozzik Sturn stored his twisted collection of animal trophies, where he held Princess Leia and the prison cells for holding Wookiees. They were all dispatched by Marek with ease, and a Shadow Guard followed suit.
More Senate Guards appeared on the Death Star I during Marek's mission to rescue Kota and Rebel Alliance founders Bail Organa, Garm Bel Iblis, and Mon Mothma. They fought alongside the Royal Guards and a shadow guard to aid Emperor Palpatine in his fight against Marek. However, all of these guards perished in the fight against Marek.
Behind the scenes
Edit
The Imperial Senate Guard does not feature in the PS2 and Wii versions of the game and its role is instead given to the Imperial Senate Sentinel.
Appearances
Edit