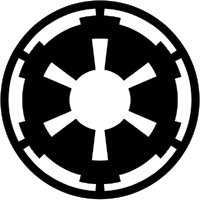 "Imperial flags reign across the galaxy."
The Imperial crest was the six-spoked symbol of Sheev Palpatine's Galactic Empire. It adorned many things Imperial, from uniforms and starships to flags and propaganda posters. It was a modified version of the eight-spoked roundel that the Galactic Republic used as their crest[1] during the Clone Wars.[2]
Behind the scenes
Edit
The Imperial insignia was designed by John Mollo, who was the costume designer for Star Wars: Episode IV A New Hope and Star Wars: Episode V The Empire Strikes Back. In the Q&A feature of the 98th issue of Star Wars Insider magazine, Mollo revealed that he based the Imperial insignia on shapes used in 18th century fortifications.[3]
Appearances
Edit
Notes and references
Edit
Ad blocker interference detected!
Wikia is a free-to-use site that makes money from advertising. We have a modified experience for viewers using ad blockers

Wikia is not accessible if you've made further modifications. Remove the custom ad blocker rule(s) and the page will load as expected.