Imperial gunner
Talk

15
103,520pages on
this wiki
Imperial gunner
General information
Member(s)
Other information
Era(s)
Affiliation
Imperial gunners were members of the Imperial Navy who manned the various weapons of the Empire's capital ships, military bases, and the Death Stars.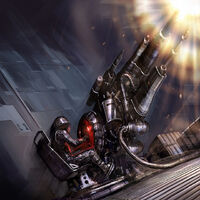 Imperial gunners were recruits from the Imperial Navy's piloting program that were either still in training or washed out. They were tasked to use their skills with weapons to handle the powerful turbolasers and ion cannons of Imperial vessels, such as Star Destroyers and World Devastators.
On both Death Stars, the gunners, often called Death Star gunners, had the additional job of maintaining a careful balance of energy in the battle station's superlaser.
The most distinguishing part of the gunners was their large black helmets with a slit-like visor, designed to protect their eyes from the bright flashes of light from turbolaser and superlaser fire. Their helmets remained almost exactly the same throughout the Fel Empire, while their uniforms gained more armor than before.
Organization
Edit
Imperial gunners used a ranking system similar to that of starfighter pilots, with commissioned ranks such as Captain, Major, and Colonel. Some would be deployed in ground operations as battlefield engineers, operating on damaged vehicles and wounded soldiers, and laying down defenses.[1]
Notable Imperial gunners
Edit
Behind the scenes
Edit
In land battles in Star Wars: Battlefront II, Imperial gunners are called "Imperial engineers" and are armed with a shotgun, detpacks, ammo containers, bacta, and a fusion cutter. Industrial Light & Magic modelmakers Grant McCune and Joe Johnston played Imperial gunners in A New Hope.
Appearances
Edit
Notes and references
Edit
↑ Battlefront II Prima Official Strategy Guide