Indiana Jones's homeworld
Talk

9
103,605pages on
this wiki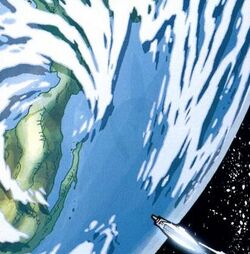 Little is known about Doctor Indiana Jones's homeworld, found in Indiana Jones's system, except that it was orbited by at least one moon, had a relatively large amount of surface water, and had a forest resembling that of Endor.
The forest was home to a tribe of Humans that used primitive combat technology like spears, bows, and axes. After the Millennium Falcon crash-landed in the forest and the members of the tribe killed Han Solo with arrows, they started referring to Chewbacca as "Sasquatch." 126 years later, they led Doctor Jones and Shorty to the remains of the ship.
The planet's other places of interest included Atlantis, which Jones had visited prior to encountering the Falcon.
Behind the scenes
Edit
This planet is, of course, Earth, but its name is never mentioned in the comic.
Appearances
Edit