Star Wars: The Force Awakens, set 30 years after the events in Return of the Jedi, follows Finn, Rey, and Poe Dameron -- three new heroes who inherit the conflict faced by their predecessors, Luke Skywalker, Han Solo, and Leia Organa. In the film, the Resistance is drawn into conflict with the villainous Kylo Ren and the tyrannical forces of the First Order.
Have your say!
Want to share your excitement? Vote in the poll below and let the world know what you think!
INCOMING TRANSMISSIONS
The Force Awakens Fannotation
The Force Awakens Teaser Trailer Fannotation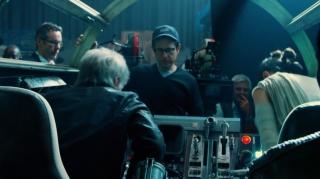 The Force Awakens Comic Con Featurette
Superfan sound off!
Everyone's got an opinion, but superfans on Wikia are the
ultimate
Star Wars
experts. Here's what some of you said you were hoping to for from the next chapter in the
Star Wars
franchise:
"I can't wait to see a brand new Star Wars story for the first time on the big screen with a bunch of my friends, and getting to share all of our excitement and reactions to that story together."
"I'm probably most excited to see the how the stories of the heroes of the original trilogy continue to play out, and how they become intertwined with the stories of the new heroes like Finn and Rey."
"I'm looking forward to seeing new Star Wars in theaters again."
Ad blocker interference detected!
Wikia is a free-to-use site that makes money from advertising. We have a modified experience for viewers using ad blockers

Wikia is not accessible if you've made further modifications. Remove the custom ad blocker rule(s) and the page will load as expected.