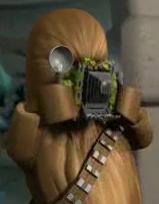 An instant camera was a type of recording device which captured a still image of an event and then printed it on a small page of paper. This piece of paper would then be ejected from the camera. A flash of light was also released simultaneously with the recording, presumably to provide additional brightness to the captured image.
A device of this type was used by an unknown Wookiee in an unknown cantina, to take a picture of Jedi Master Obi-Wan Kenobi and fellow Jedi Knight Anakin Skywalker. However, the printed image was not that of the two friends; instead, the printout showed a picture of an aged Obi-Wan dueling Darth Vader.
Appearances
Edit
Ad blocker interference detected!
Wikia is a free-to-use site that makes money from advertising. We have a modified experience for viewers using ad blockers

Wikia is not accessible if you've made further modifications. Remove the custom ad blocker rule(s) and the page will load as expected.