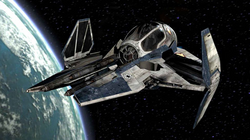 Interceptors were fast and maneuverable starfighters. They were designed specifically to target, hunt down, and destroy enemy fighters and bombers, hence the name interceptor, and thus were generally unsuited to carrying heavy bombing payloads. Interceptors could also be used for reconnaissance due to their high speed. During his campaign, Grand Admiral Thrawn noted the weakness in keeping fast interceptors close to a convoy for escort.
Appearances
Sources
Ad blocker interference detected!
Wikia is a free-to-use site that makes money from advertising. We have a modified experience for viewers using ad blockers

Wikia is not accessible if you've made further modifications. Remove the custom ad blocker rule(s) and the page will load as expected.