Iriaz
Talk

2
107,582pages on
this wiki
Iriaz
Biological classification
Designation

Nonsentient

Physical characteristics
Sociocultural characteristics
Homeworld
Iriaz were docile creatures from Dantooine, although they would attack if provoked. They were a prey of choice for local hunters. Davik Kang had an iriaz head mounted in his estate's trophy room on Taris. They were said to have been relatively common out on the plains of Dantooine, especially near the Jedi Enclave.
Behind the scenes
Edit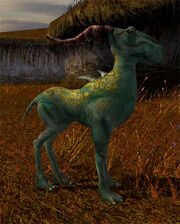 Though they were intended to actually appear in Star Wars: Knights of the Old Republic, not just be mentioned, they were cut from the final version of the game.
Some mods for both the PC and Xbox versions allow players to fight iriaz. This means the decision to remove the iriaz may have occurred at the last minute of production, forcing developers to leave the files containing the graphic files and sounds.
Additionally, dialogue from the "Murdered Settler" quest appears to suggest that they were supposed to be present. Rickard Lusoff states that he was out hunting iriaz. If the player chooses the dialogue option which has the amnesiac Revan note that there are no iriaz to be seen then Jedi Bolook admonishes him to be more observant, insisting that there are indeed iriaz around. (It's possible that this was always intended as a red herring in the investigation, or that the dialogue was simply never corrected after the iriaz were removed. Alternatively, it's possible that instead of changing Lusoff's line, which would have required re-recording voice-over work, Revan's and Bolook's exchange was added to "hang a lampshade" on the inconsistency created by removing iriaz from the game. As Revan's line is only present as text and Bolook speaks in Huttese with Basic subtitles, this would not have created any need for new voice work.)
Appearances
Edit