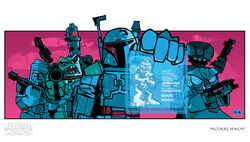 JAKe, born Jake Steel, is a UK graphic artist and designer. Although his work has appeared on record sleeves, posters, as toys, and in animated form, his work for Lucasfilm Ltd. has mainly been for merchandise, for both the Star Wars and Indiana Jones franchises. He is also the creator and director of Geekboy, a series of animated shorts which appeared on the Sci Fi channel, in which the title character meets notable science fiction icons including Darth Vader.
JAKe appeared at the Celebration IV and Celebration Europe art shows.
Bibliography
Edit
External links
Edit
Ad blocker interference detected!
Wikia is a free-to-use site that makes money from advertising. We have a modified experience for viewers using ad blockers

Wikia is not accessible if you've made further modifications. Remove the custom ad blocker rule(s) and the page will load as expected.