JMM series droid
Talk

0
103,551pages on
this wiki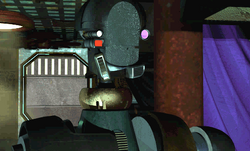 JMM series droid was a model of espionage droid.
The droid information broker 8t88 had his head replaced by that of a JMM droid as a prank. The head was cut off and eventually recovered by Kyle Katarn, who retrieved the coordinates of the Valley of the Jedi held in its memory banks.
Behind the scenes
Edit
This droid model was named after James McFadden, a.k.a. JMM at JMM's Star Wars Chronology.
The Complete Star Wars Encyclopedia refers to the JMM as a series of assassin droids.