Jaalib Brandl
Talk

7
103,516pages on
this wiki
Jaalib Brandl
Biographical information
Homeworld
Born
Physical description
Species
Gender
Hair color
Chronological and political information
Era(s)
Affiliation
Known masters
"I want to be as great as you are, father."
―Jaalib Brandl
Jaalib Brandl was a Force-sensitive Human male from the planet Trulalis, who was the only son of the notorious Inquisitor Adalric Cessius Brandl. Jaalib was trained by his father in the Jedi arts, and he eventually followed in his father's footsteps: he fell to the dark side and became an Imperial Inquisitor.
Biography
Edit
Young life
Edit
Jaalib was born on the remote planet of Trulalis in the early years of the Galactic Empire. Almost immediately after his birth, his parents, Adalric Cessius Brandl and a young woman with auburn hair, decided to take the family off-world. Jaalib's father Adalric was an accomplished stage actor and, eager for a wider audience, he needed a move to a more populated planet. As Adalric's fame grew, it had an adverse affect on his family. Jaalib's parents began to grow apart and when Jaalib had reached the age of four, his mother left Adalric and returned with Jaalib to Trulalis.
Back on Trulalis, Jaalib and his mother took up residence in the Kovit settlement. Jaalib met Otias Atori, his father's former stage coach. Otias began to raise Jaalib as a surrogate father. Otias also gave Jaalib early schooling in the art of acting, giving him a love for ancient plays and romances. Jaalib's closeness with Otias eventually convinced the aged man to show Jaalib old holos of his forgotten father. Seeing his father's skill at acting, Jaalib began to greatly admire him and decided that he wanted to be a great actor like his father. Jaalib's mother eventually learned of her son's knowledge and was furious with Otias, but Jaalib eventually convinced her to allow him to continue to watch his father's recorded performances. Jaalib's mother would sometimes attend these viewings but would break down crying as her former husband would take the stage.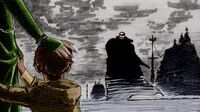 Jaalib's mother continued to raise her young son until Jaalib was twelve years of age. One night when returning home from the amphitheater where Otias stayed, the pair spied two men approaching the settlement. One was an ordinary flight jockey, but the other was an imposing figure clothed in a black cloak. Jaalib's mother recognized the man and quickly ushered her young son out of the street and back to their home.
Back at home, Jaalib easily surmised that the dark man was his father. While at home, he learned that several of the men of the town, including a man named Menges, had made plans to hurt his father. Sneaking away from his home, Jaalib made his way to where his father's ship had landed. Adalric was significantly choked up, and Jaalib informed his father that he wanted to be a famous actor just like him. Adalric lovingly asked the boy to return to his mother, but before he left, he warned his father that some of the men in the town were planning to hurt him. Adalric thanked the boy, and Jaalib returned home.
Imperial Invasion
Edit
"She didn't leave us. She died, defending me from stormtroopers. Stormtroopers and Jedi hunters who came looking for you."
―Jaalib Brandl
Soon after Adalric's brief arrival, the Kovit settlement was changed forever. An Imperial task force invaded the small settlement and began to destroy the town. Imperial stormtroopers killed everything in sight including the local fauna. Jaalib would have been killed if not for the efforts of his mother. Desperately trying to protect her son from the onslaught, Jaalib's mother was cut down by stormtrooper blaster fire.
After slaughtering the population, the task force left the planet. Jaalib was the only living Human left, and then his father came for him.
A New Family
Edit
"They never told him the truth."
―Adalric Brandl
Adalric found the devastated boy and tried to explain to him what had happened. He told the boy that he was a former Imperial Inquisitor, a dark servant to the Emperor. He had abandoned Jaalib and his mother to have a greater purpose serving Palpatine, but something happened. Fear overcame him. Fear that his young son and his former wife would be killed by the Empire. He left his service to the Emperor and returned to Trulalis to try to turn back from the dark side of the Force. The Imperial task force that had destroyed the Kovit settlement had been looking for him.
Jaalib was crushed by his father's betrayal, but he had no one else. Adalric began to teach Jaalib the ways of the Jedi but never tried to turn his son to the dark side. Along with his remedial Jedi training, Jaalib began to undergo intense training in acting skills. Adalric dreamed of one day performing the famous play, Uhl Eharl Khoehng with the boy, and he made sure that Jaalib's form and style were perfect.
By the time Jaalib was seventeen, he had begun to perform small plays off-world. He developed a small following as the lead actor in the play, For the Want of an Empire, and regularly acted in plays on the nearby world of Iscera. When the acting season was done he would return to Trulalis to continue practicing with his father.
Three's a crowd
Edit
"He won't help you. Others have come. Like you. So why don't you just get your things, and I'll walk you back to your ship?"
―Jaalib Brandl to Fable Astin
In the last performance of the season, Jaalib was approached by a young woman named Fable Astin. She was enthralled with Jaalib's performance and desperately wanted to know how he had developed his skills so well. Jaalib was amused with the woman, but quickly dismissed her as he needed to make the trip home. Jaalib returned to Trulalis and resumed work on Uhl Eharl Khoehng with his father.
As Jaalib and Adalric practiced in the confines of the large amphitheater in the middle of the town, they had an unexpected guest. Fable, having discovered Jaalib's father and his fame as a former Dark Jedi, came to ask Adalric to train her. Fable was haunted by the vision of Vialco, another Dark Jedi who had previously assaulted her. Despite the protests by Jaalib, Adalric agreed to train the young woman.
Jaalib initially tried to encourage Fable to leave the planet, knowing how dangerous his father was. Fable ignored Jaalib's warnings and continued to train with Adalric. As Fable's training took a step up, she began to struggle, and Jaalib took pity on her. After each difficult lesson, he was always waiting with a hot bath and food, ready to comfort her after his father's insults followed her back to her quarters.
One day, Adalric left on business, and Jaalib decided to treat Fable to a picnic at the Khoehng Heights, a mountain named after the famous play that was performed beneath it, Uhl Eharl Khoehng. While on their picnic, Jaalib explained Fable the story of Uhl Eharl Khoehng and gave her tips to pass his father's difficult training. The picnic also had another unexpected effect. Jaalib realized that he was in love with Fable, and the two began to carry on a relationship behind his father's back.
"Long…live…the King!"
―Jaalib Brandl
As Fable's performance in Adalric's lessons improved, Adalric discovered the secret relationship. Furious with his son's hidden love affair, Adalric sent the boy off-world and away from Fable to take part in a new play on Iscera. As Jaalib left Trulalis, he made a brief check of the ship's logs. Hidden in the ship's hyperspace coordinates, Jaalib discovered that his father had taken an unexpected trip to Byss. Jaalib immediately understood what his father planned to do. Adalric was preparing Fable as a present for the Emperor, so that he could recommence his service to him.
Jaalib sped back to Trulalis and found Fable locked in her quarters. He released her, and rendezvoused her with her crew member, Deke Holman. Deke flew Fable off Trulalis before Adalric could sense his son's treachery. Adalric, realizing what his son had done, approached him slowly and began to Force choke his son into unconsciousness. However, Adalric could not bring himself to kill his only son. He released his grip, and Jaalib fell to the ground.
Service to the Emperor
Edit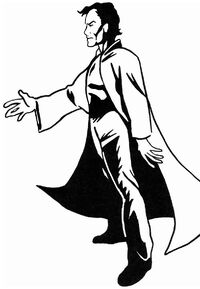 Jaalib's treachery had an unexpected effect. Now that Adalric's prize had been stolen from him, he was forced to turn over his own son to the Emperor. Jaalib underwent training that made him an Imperial Inquisitor and Dark Jedi. Working for the Inquisitorius, Jaalib did much of the same work as his father but found that it disgusted him and began to gradually do more work as an evacuator of Imperial-friendly citizens on planets being overtaken by the Rebellion. Jaalib's time as an Inquisitor continued for nine years and saw the death of the Emperor and the formation of the New Republic. Lieutenant Bane Werth served as his assistant.
In one particular case, Jaalib was ordered to the world of Garos IV where the New Republic had built up an impressive following. The fleet was scheduled to liberate the populace and Jaalib was called in to evacuate the Imperial friendly citizens. While preparing for the evacuation, Jaalib decided that his service to the Empire was done. He planned to assault the Imperial headquarters on the planet to show his masters that he was no longer going to serve the Empire.
Before this could happen, Jaalib met Alexandra Winger, the daughter of the local Imperial Governor at a play held on the planet. Jaalib recognized her as Force-sensitive, and the two began to have a mutual appreciation for each other. However, Jaalib's plans of defection came first, and Jaalib decided to also assassinate Tork Winger, Alex's father and the Imperial Governor of Garos IV to finalize his leave of the Empire.
Leaving the Empire
Edit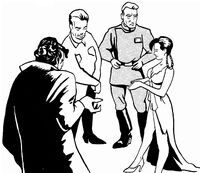 At Chado's Pub, a local Imperial hangout, Jaalib destroyed the building with a thermal detonator, killing several people. To get himself closer to the Imperial Governor, Jaalib blamed the explosion on the Rebellion, and took Alex and her father into protective custody. Rigging the protective building with another thermal detonator, Jaalib brought Alex into the woods to tell her his plan and save her from the destruction.
Alex was shocked with the information, and immediately after Jaalib explained his plans to leave the Empire, the protective building exploded. Jaalib followed Alex to the rubble to find Tork barely alive. In order to save her father, Alex pleaded with Jaalib to help her heal his wounds. Taking pity on the girl, Jaalib showed her how to heal her father with the aid of the dark side. With Jaalib's help, Alex healed her father to full health, but Jaalib's plan was destroyed. At a temporary Imperial base, Jaalib spoke with Alex for the last time, informing her that he planned to fade into the shadows and follow his own dark path. The two parted ways, and Jaalib faded into the shadows.
Late in the New Republic period, Luke Skywalker was aware of the Dark Jedi Jaalib Brandl had become, and gathered what information he could on him, and other darksiders, in preparation for any future conflict.[1]
Behind the scenes
Edit
Patricia A. Jackson had plans to continue the Brandl story when the Star Wars Adventure Journal was cancelled. However, Patricia wrote a final chapter to the Brandl story, entitled Emanations of Darkness which finishes the story of Jaalib, Adalric, and Fable. Since the story has not been published, the story is classed as cut content and so is questionably canon.
Appearances
Edit
Notes and references
Edit
↑ Evil Never Dies: The Sith Dynasties