Jango Fett
Talk

168
107,655pages on
this wiki
250px
Jango Fett
Biographical information
Homeworld
Born
Died
Physical description
Species
Gender
Height

1.83 meters[1]

Hair color

Black

Eye color

Brown

Chronological and political information
Era(s)
Affiliation
"I'm just a simple man trying to make my way in the universe."
―Jango Fett
Jango Fett was a renowned bounty hunter, assassin, mercenary, and the "father" of Boba Fett, a genetic clone of his whom he raised as a son. A Human from Concord Dawn, Fett was adopted by the legendary Mandalorian warriors following the murder of his parents in 58 BBY. Years later, he would go on to lead them through much of the Mandalorian Civil War.
Following the conclusion of that conflict, Jango left the Mandalorians and became a bounty hunter, quickly establishing a reputation as being one of the best in the Galaxy. Later on, Fett agreed to serve as the genetic template for the clones that would form the bulk of the Grand Army of the Republic during the Clone Wars. Though struck down by Mace Windu in combat, Jango's legacy would live on through his son Boba, as well as his cloned brethren, who would have a profound impact on galactic history.
Biography
"Welcome to the Mandalorians."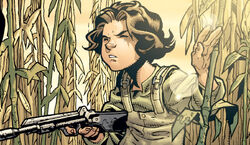 Jango Fett was born to a family of farmers on the world of Concord Dawn, a planet long associated with the heavily-armored super-soldiers known as the Mandalorians.[2] Fett's father served as Journeyman Protector, having taken over the role when former Protector Jaster Mereel was exiled.[2]
Jango was a young boy when the war began between the true Mandalorians, led by Jaster Mereel, and a traitorous scion of their ranks, Vizsla. In 58 BBY, the civil war spilled on to Jango's homeworld in the Battle of Concord Dawn. The rebel Death Watch pursued the Mandalorian loyalists to the Fett homestead, where Mereel and his followers were granted refuge by the Fett family.[2]
The Death Watch caught up with the True Mandalorians and, in attempt to root them out of their hiding place, murdered every member of Jango Fett's family. Young Jango survived, however, rescued by the Mandalorian loyalists. Jango was taken in by the Mandalorian leader, Jaster Mereel, who raised the young boy as he would his own son. He served with Mereel's forces for the rest of the Mandalorian Civil War, until the Battle of Korda 6.[2]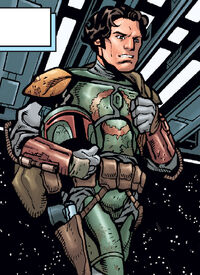 Here, Mereel was betrayed by his second-in-command, Montross, who abandoned the Mandalore to the Death Watch. Mereel was killed, and Jango alone returned to the Mandalorians with the leader's corpse. Montross attempted to seize control, but his apparent betrayal of Mereel left the other Mandalorians cold. They denounced Montross, and proclaimed that they would follow only Jango. Jango Fett became Mandalore, and Montross slipped off into exile.[2]
In 41 BBY, Jango somehow lost his armor in the Meridian Sector. While searching for it, Jango met a woman named Sheeka Tull. She helped him find his armor, and they began a relationship. The two spent a year together, and ended when their ship was attacked by pirates. They each entered separate escape pods and never saw each other again.[3]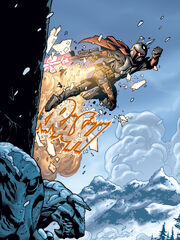 Fett led the Mandalorians for the rest of the war until the disastrous Battle of Galidraan where the Death Watch led them into a trap. Except for Jango, the Mandalorians were wiped out. Jango, the sole survivor, demonstrated his amazing physical abilities by killing many of the attacking Jedi with his bare hands, but finally surrendered and was sold into slavery. The Death Watch was victorious.[2]
Fett eventually escaped from slavery, and tracked the Death Watch to Corellia. There, he avenged Jaster Mereel's death, killing Vizsla (with the help of a family of cougar/puma resembeling Dire-cats) and a good many of his followers.[2]
With the civil war finally over, the Mandalorians were all but extinct, the remaining few Death Watch members fleeing to the far reaches of the galaxy. Jango, using his combat skills, weaponry, and mercenary mindset, became a bounty hunter, piloting his ship, Jaster's Legacy.[4] Jango soon became famous for his accomplishments throughout the galaxy, not least of which were the Jedi he killed during the Battle of Galidraan. Despite this, he always considered himself a simple man trying to make his way.[2]
He took up residence at Outland Station where, with the help of an associate named Rozatta, he became a mercenary and hunter for hire.[5]
The hunt for the prime clone (32 BBY)
"I am the best. Always was."
―Jango to Montross
Shortly after the Invasion of Naboo, Jango was contacted by a man named Tyranus, who offered him a bounty on his former apprentice, Komari Vosa, who was now the deranged leader of a crime syndicate known as the Bando Gora. Jango had to compete with Montross, the former Mandalorian traitor whom Tyranus had also contacted about the bounty.[5]
Fett's journey began on Coruscant, where the trail led from a deathstick dealer named Jervis Gloom, straight to Senator Trell, who was organizing a brand new type of deathstick from his supplier, a ruthless Dug named Sebolto.[5]
In order to gain access to the Dug, Jango traveled to Oovo IV to retrieve Bendix Fust, a criminal serving time there that had a bounty on his head. However, just as Fett reached his cell, his mission was delayed when a novice bounty hunter named Zam Wesell managed to capture Fust first. Her interference ultimately caused Jango to lose his ship, Jaster's Legacy. Stealing a prototype police interceptor, his new starship became his and his son's trademark ship—Slave I. Later, Jango formed a partnership with Zam and they mutually agreed to split the bounty when they delivered Fust to Sebolto.[5]
Heading to Malastare, Sebolto's homeworld, Fett managed to sneak inside the crimelord's palace with the help of Zam, with the pair of them killing anyone who got in their way. When they confronted the Dug he frantically tried to escape, but managed to fall into a smelting pit instead. Jango then fought hordes of Bando Gora as he made his way deeper into Sebolto's deathstick factory and later fought Montross as well. Reaching Sebolto's transport ship, Fett discovered Huttese markings, which led Jango straight to Tatooine. Two Hutts, Jabba Desilijic Tiure and Gardulla the Elder, controlled the desert planet, and one of them had connections to the Bando Gora.[5]
In order to gain an audience with Jabba, Jango fought a gang of outlaws led by Longo Two-Guns who had a price on his head that was posted by the Hutt. When Jango came to Jabba to collect his reward, he asked the slimy crimelord about the Bando Gora. However, it turned out that Jabba actually had nothing to do with Vosa or the crime syndicate. Instead he informed Jango that it was Gardulla, not him, that was allied with the cult. In the meantime, Zam managed to sneak inside Gardulla's palace but was captured, leaving Jango to fight his way inside by himself. But when he got there, Jango wanted to leave her in her cell for protection, which Zam mistook for leaving her out of a fair 50-50 share of Vosa's bounty. She called for the guards, who then knocked Jango out and stripped him of his weapons, and then brought him to Gardulla to decide his fate. The Hutt decided to simply kill Jango by feeding the famed bounty hunter to her pet Krayt dragon. As Fett was brought to its pen, he managed to kill the guards that were at his side holding him down. Retrieving his weapons, Jango fought the dragon. In the end, Gardulla ended up as being lunch for her own beast, but not before Jango had discovered the information he was searching for—the identity of Vosa's hideout, Kohlma, a burial moon of Bogden.[5]
"I was recruited by a man called Tyranus on one of the moons of Bogden."
―Jango Fett to Obi-Wan Kenobi
Leaving Zam in her cell because of her apparent betrayal, Fett set off to return to Outland Station. Unbeknownst to Fett, however, Rozatta was at the very moment under attack by Montross. It would seem the other bounty hunter had barely made a move on the bounty, instead tracking Jango through a beacon planted on his ship. Roz, despite Jango's personal motto "trust no-one" was one of the few people who cared about Jango. Revealing the location as the fourth moon of Bogden, her last wish was that he would find something to actually care and live for besides money. She believed that despite his dangerous line of work, he was a good honorable man and deserved more.[5]
Jango traveled to the system, fighting all matter of Bando Gora along the way. Having one last duel with Montross, he denied his old foe an honorable "warrior's" death, instead allowing the Bando Gora to proudly finish Montross off. Moving deeper into Vosa's lair, Fett was ambushed, knocked unconscious, and stripped of his weaponry.[5]
Having captured Jango, the Bando Gora prepared to turn him into a mindless slave. It was here that Jango acquired most of his facial scars. Vosa herself came to demand of him the name of his employer, but Zam Wesell freed Jango before being injured herself by the insane Dark Jedi. After a long duel, Jango Fett emerged victorious. As he prepared to finish her off, Vosa asked if he would choose to leave her alive. Jango, looking at the ruined female nearing her death, lowered his weapons. Vosa murmured "He… is here." before being choked with the Force to her last breath.[5]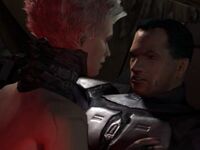 To Jango's surprise, Tyranus was indeed there, and he was impressed. The bounty was a test to determine if the rumors of Jango's skills against Jedi were true.[4] If so, his clones trained under his supervision would be very effective once Order 66, the order to eliminate all Jedi, was issued. While Jango had personally killed many Jedi on Galidraan, Tyranus considered his former apprentice a more challenging test. In addition to the bounty on Vosa, Tyranus offered Jango a tempting sum of money for an unusual task: Jango was to be a template for an army of clones. Jango agreed, and soon millions of clones were created in his likeness at the cloning facility on Kamino. Jango, however, remembered Rozatta's final wish and asked for one clone produced without genetic tampering, an apprentice and son that would become Jaster's legacy and revive the Mandalorians.[5]
Jango Fett left Kohlma and said his goodbyes to Zam Wesell (who, thanks to trauma received on Kohlma, had seemingly forgotten what Jango looked like beneath his helmet when they next encountered each other, some five years later).[6] After parting ways, he returned to Dooku's estate to finalize his deal with the Sith Lord. His wish for an heir was granted and he was awarded Boba Fett.[2] Contrary to his later claims, Jango was aware that Tyranus was also former Jedi Master Count Dooku, the Separatist leader, having already met Dooku at the Battle of Galidraan.[2]
Jango did not fully retire from his career, but he took fewer jobs and spent more time on Kamino, where he raised Boba in the Mandalorian ways while assisting the Kaminoans in developing training programs for the clone troopers. In short, he recruited one hundred training sergeants, mostly former Death Watch members, to assist in the matter. These men became known as the Cuy'val Dar—"Those Who No Longer Exist". Fett and the Cuy'val Dar taught the clones Mandalorian culture, including the language and chants of their people. The clones' white armor was even based on the Mandalorian armor Fett wore.[7]
Shortly before the Clone Wars, Ashaar Khorda employed Jango to retrieve the statue known as the Infant of Shaa.[6] Khorda hoped to use the Infant's power to destroy Coruscant in the upcoming conflict. Fett succeeded in attaining the statue, but was persuaded by his rival and contemporary Zam Wesell to re-steal the statue from Khorda to save the galactic capital. A last-minute effort by Fett and Wesell saved the Infant from unleashing its power within a central Coruscant power core. Jedi Master Yarael Poof sacrificed himself to contain the fracturing statue and prevent the destruction of Coruscant, and Fett returned the statue to Seylott for safekeeping. This would be one of the final missions Fett undertook in his life.[8]
During the cloning process, Fett automatically became one of Tyranus's bodyguards (effectively placing him in the CIS). Had he not already known, Fett probably now realized that Dooku (the Jedi Master who led the attack on Galidraan) and Tyranus were the same person. This knowledge would greatly help his son later on.[9]
The eve of war (22 BBY)
"Do you like your army?"
"I look forward to seeing them in action."
"They'll do their job well, I guarantee that."
―Jango Fett and Obi-Wan Kenobi
Ten years after the cloning process had begun on Kamino, the formation of the clone army was progressing well. 200,000 units were ready (with a million more well on the way) and Jango was hired to assassinate Senator Padmé Amidala, who could have become a threat due to her successes during the Battle of Naboo. The plot failed and Jango was forced to murder his partner, Zam Wesell, to keep his identity secret. Jedi Knight Obi-Wan Kenobi traced one of Jango's weapons to Kamino and learned of the clone army of which the Jedi were previously unaware. Jango and Kenobi initially met on civil terms, but later, when Kenobi tried to apprehend Jango for further questioning, they clashed in a titanic battle where Jango bested Obi-Wan in combat and escaped with Boba in Slave I.[4][10]
However, Kenobi tracked them to Geonosis, where he learned that Jango and Count Dooku (Darth Tyranus) were in league with the Confederacy of Independent Systems. Kenobi was captured and sentenced to death in the arena for espionage, as were Anakin Skywalker and Padmé Amidala, who had come to rescue him. Count Dooku, Jango and his son Boba were special guests of the Geonosian Archduke Poggle the Lesser and watched the execution from a private box.[10]
However, the execution ceremony was not going as planned, as all three prisoners managed to escape. At one point, Nute Gunray became so furious that he told Jango to finish Amidala off. But Dooku told the Viceroy to be patient and that she will die. Suddenly, using the Force to move quietly, Mace Windu sneaked into the box and held Jango at bay with his lightsaber at the bounty hunter's throat. As several battle droids arrived to deter the Jedi, Jango fired his wrist-mounted flamethrower at Mace, who jumped out of the box and into the arena, throwing off his burning cloak and landing unharmed. Just then 200 Jedi who had been hiding in the crowd activated their lightsabers as one and a massive battle broke out between the Jedi and the CIS' battle droids. Jango, still in the viewing box, shot Jedi Council member Coleman Trebor off the balcony when he attempted to confront Dooku. Jango next moved to the arena floor itself, hoping to help turn the tide of the battle.[10]
Jango again confronted Windu, who had dropped his lightsaber. However, Windu retrieved it with a simple Force Pull. The reek, which was still loose, suddenly disrupted their battle, trampling Jango in the process. Jango killed it with a swift blast to the head, but he did not realize his jetpack had been damaged when he was trampled.[10] As Windu rushed in, Jango's attempts to blast him proved futile, leading him to attempt to gain space by jetting away. The jetpack upon which he relied failed to fire, leaving him exposed to Windu's decapitating strike.[10] Let down by his equipment, Fett fell, as the Sith Lord, Darth Traya's prophecy concerning the Mandalorians seemed to foretell:[11]
"They will die a death that will last millennia, until all that remains is their code, their history, and in the end, the shell of their armor upon the shell of a man, too easily slain by Jedi."
―Darth Traya's prediction of Jango's death, nearly 4,000 years before it
Jango's clones told themselves a different story of his death, however: that he was unaware of Dooku's treason and unwilling to ruin his honor by going back on his word, and killed twelve Jedi Masters before being killed himself.
Although the real details of Jango's death eventually became clear, the clones nonetheless continued to faithfully serve under the Jedi, even Windu.
Jango never lived to see his clones participate in the Clone Wars, which tore the galaxy apart and cleared the way for the Galactic Empire. Nor did he ever see his son Boba continue his bounty hunting legacy, using his father's weapons and ship, as well as the suit of Mandalorian armor once worn by Jaster Mereel.
In honor of the legendary bounty hunter, a gladiatorial pit that became known as the Jango Fett Arena was built in the city of Mos Eisley on Tatooine.[12]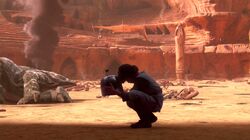 Though Jango died long before his time, he would, from a certain point of view, live on forever not only through Boba Fett, but also the millions of his clones that went on to serve the Republic and, for the most part, continued to serve the new Galactic Empire.
Jango Fett was buried on Geonosis by Boba with the simple initials J.F. on a headstone. In 40 ABY Boba, along with his granddaughter Mirta Gev, retrieved Jango's remains from Geonosis so that they could be buried on Mandalore next to Boba's daughter Ailyn Vel.[13]
Personality and traits
"Might I inquire as to why?"
"You might."
―Count Dooku and Jango Fett, after Fett agreed to be cloned only if he had 1 un-altered clone.
Jango Fett was though, instinctive, and ruthless when it came to bounty hunting, but he was known to have a soft side for the few people he cared about in life. He was often motivated by money, and as such his loyalty was to the highest bidder. He became so efficient in bounty hunting that even planetary governments were known to hire him.[14]
Fett kept himself in top condition, maintaining the habit of training often with his equipment.[14] He was also very intelligent, having prudent tactical skills, and was fluent in Huttese.[5] Nonetheless, he would always prefer the subtle approach in his hunting, a trait that his son would share.[5]
Jango kept a cool demeanor when calculating his every move, always playing to win or survive. He knew best when to make use of evasion, which enabled him to outlast his enemies.[14] In fact, it was only when his evasion skills did fail him, at the Battle of Geonosis, that he was defeated.[10]
Jango also worked out his own moral code that he deemed honorable by his standards, although he was ruthless when it came to bounty hunting.[5] He would live much of his life as a bounty hunter following these guidelines. Later, he would raise his son Boba by these codes, which shaped what type of missions Boba would undertake in his own lifetime.[15]
Jango preferred to work alone; however, he would occasionally partner with Zam Wesell when working together was in their best interest.[6][8] He also worked with his associate Rozatta early in his career as a bounty hunter.[5] However, other than Zam and Roz, Jango was a loner who usually kept to himself, most likely because of Montross' betrayal, which had cost Jaster Mereel his life.[2]
Consistent with his preference for working alone, Fett also chose to live alone. He never married or formed long-term relationships; and it seemed that he mould never have any progeny. However, the cloning enterprise gave him an unexpected opportunity to raise a son who was an exact genetic replica of himself--unlike the usual kind of offspring, whose genes are a random mixture of genes from mother and father. In addition to his pay, which was considerable, he requested only one thing: an unaltered clone for himself. By specifying that this particular clone be genetically unaltered and grow at the normal, unaccellerated rate, Jango Fett could reasonably expect that Boba Fett would learn all the skills and values he wanted to teach him. It is not surprising that Boba Fett would continue in his father's line of work.[10]
Weapons
Jango Fett wore the signature armor of the Mandalorians, restored by the Governor of Galidraan. Fett was also armed with Westar-34 twin Dallorian blasters, BlasTech Dur-24 wrist laser, Czerka ZX miniature flame projector, and a Gauntlet Dartcaster with Kamino saberdarts (among other kinds). Fett's left gauntlet also had a Kelvarex Consolidated Arms MM9 mini concussion rocket, which utilized computer target tracking. Fett used Type-12A anti-personnel rockets, Type-12B gas capsules, Merr Soww 1126 rockets, and Merr Sonn 1126 rockets. He also carried a sonic beam weapon, wristband blades, wrist mounted grappling hook, boot spikes, and electromagnetic devices in his gloves, enabling him to attract his guns from a short distance.
He had two jetpacks, one of which was a Merr-Sonn JT-12; the jetpack was personally manufactured for Jango Fett by Merr-Sonn Munitions prior to the Clone Wars. The other was a Z-6 jetpack manufactured by Mitrinomon Transports.
The JT-12 was a compact jetpack featuring a warhead missile launcher. This model was similar to the more heavily-armored Mitrinomon Z-6 jetpack. Both models were favored by Jango.
The Mitrinomon Z-6 was a more common model of jetpack used by the Mandalorians. Many famous Mandalorians used this type of jetpack, including Jango Fett and Boba Fett. The jetpack included a targeting computer, flight gyros, and a missile/grapple launcher.
Oddly enough, both Jango and Boba were thwarted by their jetpacks: while fighting Obi-Wan Kenobi on Kamino, Jango's jetpack detached itself and flew out of control, exploding against a column.[10] Also during Jango's final battle, it was the malfunction of his jetpack that ultimately resulted in his death.[10] Likewise, while battling Luke Skywalker over the Pit of Carkoon, Boba's jetpack was accidentally activated by Han Solo, launching him into the side of Jabba's sail barge and into the Sarlacc.
Vehicles
After the death of his mentor, Jaster Mereel, Jango inherited Mereel's personal ship. Renaming it Jaster's Legacy, he used it in many of his bounty hunting contracts. During the hunt for Komari Vosa, which led to Oovo IV, the ship was sabotaged by Zam Wesell. Needing a replacement, he found a prototype fleet of Firespray-class starships in one of the hangars of the asteroid prison.[5] Stealing one and demolishing the others, he christened it "Slave I", which he used up until his death. The ship would later go into the hands of his son, Boba Fett.
Behind the scenes
Jango Fett was played by Temuera Morrison in Attack of the Clones and voiced by Morrison in video games such as Star Wars: Bounty Hunter and Star Wars: Battlefront II.
George Lucas chose the name "Jango" as a reference to the titular character of the movie Django. Like Jango, Django is also a loner mercenary with a harsh past.
www.ambufett.com was a domain name purchased by Lucasfilm before the release of Attack of the Clones. It is possible that Ambu Fett may have been considered as the original name of Jango, or another Fett family member, or perhaps another clone. Another name proposed for the character was J'mee Fett.
There is a descrepancy in the time which he spent with Sheeka Tull; in two locations in The Cestus Deception it is specifically said they met in 41 BBY; however, Sheeka also says that they met two years after the destruction of the Mandalorians, which took place in 34 BBY.
He appears in Tony Hawk's Pro Skater 4.
Appearances
Non-canon appearances
Sources
Notes and references
↑ While Jango's official height is 1.83 meters, his actor is significantly shorter. This can be seen in every scene Jango appears in with Obi-Wan Kenobi, who is 1.79 meters tall, and is reflected in The Cestus Deception, which states his clones as being 1.78 meters tall.
↑ The Cestus Deception
↑ 5.00 5.01 5.02 5.03 5.04 5.05 5.06 5.07 5.08 5.09 5.10 5.11 5.12 5.13 5.14 Star Wars: Bounty Hunter
↑ Republic Commando: Hard Contact
↑ Boba Fett: Crossfire
↑ Star Wars: Knights of the Old Republic II: The Sith Lords
↑ Inside the Worlds of Star Wars Trilogy
↑ Bloodlines
↑ Boba Fett: The Fight to Survive
See also
External links