"Wookieepedia is a fabulous resource. Love it and use it a lot. But it's always a starting pt for further verification, not an endpoint."
―Jason Fry
Jason Fry is an author who writes for Wizards of the Coast and Star Wars Insider. He also frequents the forums of TheForce.net. He has a special interest in Star Wars astrography and was a co-author of The Essential Atlas with Daniel Wallace. The likenesses of Fry and Wallace were even used in one image of hyperspace scouts in the Atlas.
Although he has primarily written Star Wars reference books and articles, Fry has also expanded into the realm of fiction, having authored such works as the short story "Deader than a Triton Moon" and the young readers' novel The Clone Wars: Darth Maul: Shadow Conspiracy. His first original novel, titled The Jupiter Pirates: Hunt for the Hydra, was released by HarperCollins Publishing on December 23, 2013.[1]
Star Wars bibliographyEdit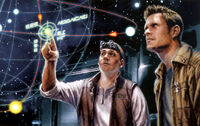 Wizards of the Coast
Edit
Star Wars Insider
Edit
(*Co-authored with Daniel Wallace and Craig Robert Carey)
Notes and references
Edit
External links
Edit