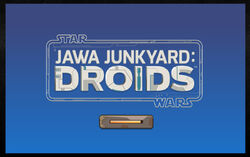 "Welcome to the Jawa Junkyard. Help rebuild the droids before time runs out."
―Jawa Junkyard: Droids
Jawa Junkyard: Droids is a game on StarWars.com that allows users to put together their own astromech droid from varied parts in a junkyard on Tatooine, and also features a "Challenge Mode" where players have to quickly memorize a droid design and then recreate it to accumulate points and win trophies. The player is supervised by an unnamed Jawa.
Game description
Edit
From the main screen, one may choose to enter Challenge Mode or the Workshop, or view the trophy wall. While in Challenge Mode or at the main screen, dewbacks, banthas, and landspeeders pass by in the background. In Challenge Mode, the player receives three seconds to memorize the color, shape, and design of an astromech droid model's head, body, and legs, plus its arm accessory, then one minute to cycle through choices and select the right parts. A streak of five correct droids in a row earns a hint token, which reveals the model again, for another three seconds. Up to three hint tokens can be accumulated at a time.
After every ten droids built (up to one hundred) additional parts are unlocked to be used in the Workshop, but are also included in the Challenge Mode, raising the difficulty. After 100 droids are built, the game becomes very difficult, with sixty head choices alone. Ninety-six droid parts are unlocked at this point, and though the Jawa still repeats that more can be earned, no more are actually unlocked, even past level 150. A screen capture program can be used to temporarily record droid blueprints, which many players may find essential beyond the first one hundred levels. All ten trophies and all ninety-six parts can be easily and quickly unlocked.
The game includes parts from all R-series astromech models from R2 to R7, except for the R3. While the game has little story to speak of, it would likely take place during or after 9 ABY, the year the R7 was introduced. One of the droid heads resembles the head of Kenner's original R2-D2 action figure, which looked significantly different than its movie counterpart.[1] The Jawa appears again as one of the characters players are asked to find in Star Wars Galactic Spy.
5-in-a-Row
25-in-a-Row
50 Droids Built
100 Droids Built
Perfect Build (complete a build without making a mistake)
R2-D2 Completed
R5-D4 Completed
Trigger Happy (hit "Build" several times before correctly completing a model)
Under 30 Seconds
Used All Hints (within a single, successful round)
Appearances
Edit
Characters
Creatures
Droid models
Locations
Organizations and titles
Sentient species
Vehicles and vessels
Weapons and technology
Miscellanea
Notes and references
Edit
↑  Star Wars (Pack: Artoo-Detoo (R2-D2))
External links
Edit